About Us
Chillies of Brackenbury is a Indian takeaway in London. Why don't you try our Chicken Madras or Bhindi Bhaji?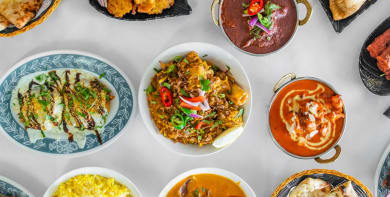 Reviews
221 reviews
Sophie
"Great, as always!"
30/05/2020
Vicky
"I love this food so much order is weekly just be careful as you forgot my drink this time but overall its amazing."
28/05/2020
Pitou
"Excellent as always."
19/05/2020
Stacey
"Continuous delicious food! Our new favourite Indian takeaway"
15/05/2020
Menu
Aloo Chaat
Sliced potatoes cooked with cucumber & chaat masala, served with puri
£3.80
Aubergine Pakora
Sliced aubergine, slightly spiced, deep fried with batter
£3.25
Chicken Chaat
Sliced chicken tikka cooked with cucumber & chaat masala, served with puri
£3.80
Chicken Pakora
Lightly spiced cubes of chicken, battered & deep fried
£4.25
Chicken Wings (5 Pieces)
Tandoori chicken hot wings
£3.80
Chicken Tikka Starter
Marinated in tandoori herbs & spices, grilled in clay oven
£3.80
Fish Pakora
Fresh water fish lightly spiced, deep fried with batter
£4.25
King Prawn Butterfly
King prawn slightly spiced, covered with batter then shallow fried
£4.25
Lamb Chops
Tender lamb chops marinated in spicy sauce grilled in the tandoori
£5.25
Lentil Popcorn
Crushed lentils mixed with onions, green chillies & coriander, deep fried
Slightly hot
£3.25
Mixed Vegetable Starter
Onion bhaji, vegetable samosa, vegetable aubergine pakora & grilled cheese
£6.25
Mixed Starter For 2 Persons
Chicken tikka, lamb chops, seekh kebab, vegetable samosa & onion bhaji
£7.25
Onion Bhaji
Onion mixed with lentils, potatoes, green chilli & coriander, lightly spiced & deep fried
£2.80
Paneer Shashlik
Homemade cheese marinated in tandoori spices & herbs grilled with onion, pepper & tomato
£4.25
Prawn Pathia Puri
Prawns cooked with sweet, sour & hot flavoured sauce, served on top of a puri
£3.80
Samosa Meat
Triangular shaped patties, stuffed with vegetable or meat, deep fried
£2.55
Samosa Vegetable
Triangular shaped patties, stuffed with vegetable or meat, deep fried
£2.55
Seekh Kebab Starter
Minced lamb mixed with spices & herbs made in to finger shape, grilled in tandoori
£3.80
King Prawn Shashlik (4 Pieces)
Grilled with onions, peppers & tomatoes
£9.45
Lamb Tikka Main
Marinated in tandoori herbs & spices, grilled in clay oven
£7.00
Mixed Grill Main
Pieces of lamb chops, chicken tikka, lamb tikka, hash tikka, tandoori king prawn, seekh kebab & tandoori chicken served together. Served with naan
£11.45
Chicken Tikka Main
Cubes of chicken marinated in tandoori spices & herbs, grilled in clay oven
£6.45
Chicken Tikka Shashlik
Cubes of chicken tikka grilled with onions, peppers & tomatoes
£7.00
Chilli's Special Shashlik (Served 2 Persons)
Chicken & lamb tikka, king prawns & paneer grilled with tomatoes, onions & peppers
£10.45
Paneer Shashlik
Homemade cheese marinated in tandoori spices & herbs grilled with onions, peppers & tomatoes
£6.45
Tandoori Chicken Main Full
Tender chicken on the bone marinated in special blend of herbs & spices, barbecued over charcoal
£10.45
Tandoori Chicken Main Half
Tender chicken on the bone marinated in special blend of herbs & spices, barbecued over charcoal
£6.45
Murgh Bahar
Medium hot a touch of masala sauce
£7.25
Karahi Chicken
Specially prepared chicken pieces cooked with spices & fresh ginger topping
£7.00
Garlic Chilli Chicken
Cooke with garlic & chillies fairly hot
£7.75
Chicken Bhuna
Medium spices cooked with onion, tomato & fresh coriander
Medium
£6.45
Chicken Rezala
Barbecued chicken marinated in ground garam masala & fresh lemon juice, cooked with onions peppers & green chillies
£7.75
Chicken Rogan Josh
Cooked in a medium sauce & served with fresh ginger topping
Medium
£7.00
Chicken Shatkora
Cooked with a Bangladeshi citrus fruit similar to that of a lemon
£7.75
Chicken Tikka Masala
Tandoori grilled chicken cooked in a thick masala sauce
£7.00
Chicken Tikka Methi
Marinated chicken grilled in tandoori cooked with fenugreek leaves, onions & coriander
£7.00
Chicken Tikka Saag
Grilled chicken cooked with spinach
£7.00
Chillies Delight
Very mild dish cooked with mango, coconut & almonds
Very mild
£7.75
Chicken Vindaloo
Very hot dish with potatoes
Very hot
£6.45
Chicken Chilli Tikka Special
Fresh chillies, green peppers & tomatoes in a sweet, sour & hot sauce
Sweet, sour & hot
£7.75
Chicken Dansak
Sweet & sour, cooked with lentils
Sweet & sour
£6.45
Chicken Jalfrezi
Very hot & sour cooked with green chillies & yoghurt
Very hot & sour
£6.45
Chicken Korma
Cooked with onion & fresh cream coconut sauce
£6.45
Chicken Madras
Cooked with lemon juice in chilli sauce
£6.45
Butter Chicken
Tandoori grilled chicken, cooked in yoghurt base spices butter & cream almond sauce
£7.00
Bengal Lamb
Lamb marinated in chef's special spices, cooked with  onion & peppers
£8.45
Garlic Gosht
Tender lamb marinated with gram masala & garlic, cooked with pepper onions
£7.45
Karahi Lamb
Specially prepared lamb pieces cooked with spices & fresh ginger topping
£7.45
Keema Saag
Minced meat with spinach
£7.45
Keema Peas
Minced meat with peas
£7.45
Kofta Karahi Kebab
Meatballs cooked with medium spices
£7.75
Lamb Dansak
Sweet & sour, cooked with lentils
Sweet & sour
£7.45
Lamb Korma
Cooked with onion fresh cream coconut sauce
£7.45
Lamb Madras
Cooked with lemon curry juice & chilli sauce
£7.45
Lamb Methi
Spring lamb cooked with spinach
£7.45
Lamb Pasanda
Lamb marinated in thick cream sauce cooked with sultanas, cashew nuts & ground almond
£7.45
Lamb Rezala
Lamb marinated with ground gram masala, cooked with green chilli, pepper, onion & fresh lemon juice
£8.45
Lamb Rogan
Cooked in medium sauce & served with fresh tomato topping
Medium
£7.45
Mattar Paneer Large
Peas cooked with cheese & cream sauce
£5.25
Mattar Paneer Small
Peas cooked with cheese & cream sauce
£3.55
Mushroom Bhaji Large
Stir fried, lightly spiced
£5.25
Mushroom Bhaji Small
Stir fried, lightly spiced
£3.55
Mushroom Masala Large
Mushroom cooked in thick masala sauce
£5.25
Mushroom Masala Small
Mushroom cooked in thick masala sauce
£3.55
Egg Bhuna Large
Boiled egg cooked with onion & tomato lightly spiced
£5.25
Egg Bhuna Small
Boiled egg cooked with onion & tomato lightly spiced
£3.55
Cauliflower Bhaji Large
Cauliflower lightly spiced
£5.25
Cauliflower Bhaji Small
Cauliflower lightly spiced
£3.55
Chana Aloo Large
Chickpeas cooked with potato
£5.25
Chana Aloo Small
Chickpeas cooked with potato
£3.55
Chana Bhaji Large
Chicken cooked, served with chopped raw onion & a slice of lemon
£5.25
Chana Bhaji Small
Chicken cooked, served with chopped raw onion & a slice of lemon
£3.55
Aloo Gobi Large
Potatoes cooked with cauliflower
£5.25
Aloo Gobi Small
Potatoes cooked with cauliflower
£3.55
Bhindi Bhaji Large
Okra stir fried lightly spiced
£5.25
Bhindi Bhaji Small
Okra stir fried lightly spiced
£3.55
Bombay Aloo Large
Spicy potato
£5.25
Bombay Aloo Small
Spicy potato
£3.55
Brinjal Bhaji Large
Aubergine stir fried lightly spiced
£5.25
Brinjal Bhaji Small
Aubergine stir fried lightly spiced
£3.55
Tarka Daal Large
Full of flavoured lentil soup
£5.25
Tarka Daal Small
Full of flavoured lentil soup
£3.55
Vegetable Bhaji Large
Stir fried with chilli, lightly spiced
£5.25
Vegetable Bhaji Small
Stir fried with chilli, lightly spiced
£3.55
Vegetable Dansak Large
Sweet & sour sauce slightly hot with lentils
Sweet & sour
£5.25
Vegetable Dansak Small
Sweet & sour sauce slightly hot with lentils
Sweet & sour
£3.55
Vegetable Jalfrezi Large
Mixed vegetables cooked with spiced green chilli & yoghurt sauce
Hot
£5.25
Vegetable Jalfrezi Small
Mixed vegetables cooked with spiced green chilli & yoghurt sauce
Hot
£3.55
Vegetable Masala Large
Mixed vegetables cooked in masala sauce
£5.25
Vegetable Masala Small
Mixed vegetables cooked in masala sauce
£3.55
Paneer Masala Large
Cheese cooked in thick masala sauce
£5.25
Paneer Masala Small
Cheese cooked in thick masala sauce
£3.55
Saag Aloo Large
Potatoes cooked with spinach
£5.25
Saag Aloo Small
Potatoes cooked with spinach
£3.55
Saag Bhaji Large
Spinach cooked with or with cheese
£5.25
Saag Bhaji Small
Spinach cooked with or with cheese
£3.55
Saag Daal Large
Spinach cooked daal
£5.25
Saag Daal Small
Spinach cooked daal
£3.55
Saag Paneer Large
Spinach cooked with or with cheese
£5.25
Saag Paneer Small
Spinach cooked with or with cheese
£3.55
Cheese Naan
Oven with pieces of cheese & chicken inside
£2.90
Jhal Naan
Leavened tandoori bread with minced lamb, garlic, green chillies & coriander filling
£2.80
Keema Naan
Baked with minced lamb inside
£2.60
Garlic Naan
Baked with finely cut garlic & coriander on top
£2.60
Vegetable Naan
Leavened tandoori bread with vegetable filling
£2.60
Stuffed Paratha
Stuffed with vegetables
£2.80
Naan
Bread baked in clay oven
£2.35
Paratha
Plain flour layered bread
£2.55
Peshwari Naan
Baked with special sweet filling & topped with sesame seed
£2.60
Pilau Rice Large
Basmati rice cooked with onion, ginger turmeric & vegetable oil
£3.25
Pilau Rice Small
Basmati rice cooked with onion, ginger turmeric & vegetable oil
£2.55
Peas Rice Large
Rice cooked with peas
£3.55
Peas Rice Small
Rice cooked with peas
£2.80
Vegetable Rice Large
Rice cooked with vegetable
£3.55
Vegetable Rice Small
Rice cooked with vegetable
£2.80
Rice Large
Steamed basmati rice
£3.25
Rice Small
Steamed basmati rice
£2.55
Keema Rice Large
With mince meat
£4.25
Keema Rice Small
With mince meat
£3.25
Egg Rice Large
Rice cooked with egg
£3.25
Egg Rice Small
Rice cooked with egg
£2.80
Mushroom Rice Large
Rice cooked with mushroom
£3.55
Mushroom Rice Small
Rice cooked with mushroom
£2.80
Chana Rice Large
Rice cooked with chickpeas
£3.55
Chana Rice Small
Rice cooked with chickpeas
£2.80
Badami Rice Large
Cooked with nuts
£3.80
Badami Rice Small
Cooked with nuts
£2.80
Garlic King Prawn
King prawn grilled over clay over cooked with garlic onion & spices
£10.45
King Prawn Madras
Cooked in a lemon & chilli sauce
£9.45
Tandoori King Prawn Special
Large prawns marinated & grilled in clay oven, cooked with light, spices, onions & peppers
Fairly hot
£10.45
Prawn Jalfrezi
Cooked with spices, green chillies & yoghurt
Sweet, sour & hot
£9.45
Prawn Pathia
Sweet, sour & hot, cooked with onion & tomato
Sweet, sour & hot
£7.00
Prawn Bhuna
Medium spices onion, tomato & coriander
Medium
£7.00
Saag Prawn
Cooked spinach, lightly spiced
£7.00
Contact Us
Find Us
127B Brackenbury Road, London, W60BQ
We deliver to
NW10, SW10, SW5, SW6, SW7, W10, W11, W12, W14, W2, W3, W4, W5, W6, W8, W9